Helping during COVID-19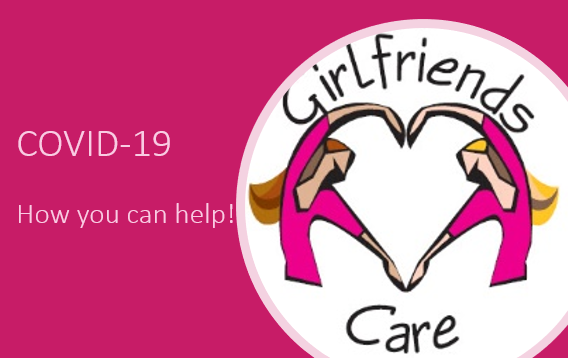 As our community comes together during the COVID-19 outbreak, this is a time when our hearts go out to everyone in need. Because our nonprofit partners serve those especially vulnerable during this crisis, and we have been asked what else we can do, you will find below options from some of our partners if you would like to help. Most of the organizations offer the option to donate through their website also.

We at Girlfriends Care hope you and your loved ones are staying physically and mentally healthy during these unusual times.
How You Can Help Our Partners

---
SAN DIEGO FOOD BANK:
---
BROTHER BENNO'S
Supplies needed for bagged lunches (Dining Room is currently closed):
Bread,
lunch meat
Individual (lunch sized) snack packages of: Chips, cookies, crackers, nuts, fruit snacks, fruit cups
Individual beverages:bottled water, sports drinks (Gatorade, etc.), fruit juice
Sandwich size baggies (Ziplock, etc.)
Donations are accepted at: The Brother Benno's Center, 3260 Production Avenue, Oceanside, CA 92058 (760) 439-1244. Questions? Contact Jan or Darryl at The Brother Benno's Center.
Hours: 6:30 a.m. to 11 a.m. (Monday, Tuesday, Wednesday & Friday – no donations on Thursdays please) 10 a.m. to 12 p.m. (Saturday)
---
SOLUTIONS FOR CHANGE:
• Nonperishable food items
• Trash bags,
• Toilet paper & Paper towels
• Diapers
• Hand Sanitizer/Lysol/Bleach & Isopropyl Alcohol 70-90%
• Pure Aloe Vera• Hand soap• Gloves (M/L)• Hygiene Products

Please drop off all donations off anytime at 722 W California Ave, Vista, CA 92083
Cash donations can be made online or mail a check to the address above.
---
OPERATION HOPE
General:
Liquid Hand Soap, Dish Soap, Paper Towels,
Bottled Water,
Diapers (Size 5 & 6), Baby Wipes,
For kids projects:
Glue, Tape, Paper (Construction or plain white),
Puzzles, self-guided craft kits
They are also continuing their "paddle raise" from the Gala that was cancelled. $50 supports a family, with services, housing, etc. for a day. Website: www.operationhopeshelter.org

Please drop off all donations off at 859 E Vista Way, Vista, CA 92084 or 3982 Foothills Ave, Carlsbad, CA 920078.
---
BOYS & GIRLS CLUB OF VISTA
The Boys & Girls Club has been closed except for lunch distribution and their current need is financial support.

Donate Online at https://www.bgcvista.org/about/support-boys-girls-club or donate by mail to: 410 W California Ave, Vista, CA 92083
---
FAMILY RECOVERY CENTER
Toothpaste, Toothbrushes, Deodorant , Shampoo & conditioner
Clear water bottles
Cotton fabric to make masks for the clients. Or if you know of anyone that can make masks for the clients that would be awesome! Other option are Scarfs to cover face.
Contact for Delivery:
fquijano@mhsinc.org
760-439-6702 x 1230
760-579-3275 (cell)
---
ALABASTER JAR
Cleaning supplies, paper towels, toilet paper, toiletry items,
Games, craft-making supplies, puzzles, and art supplies
Donations can be dropped off at The Church at Rancho Bernardo. Please mark them for Alabaster Jar.
Visit their new social enterprise, a venture to hopefully help employ the women they provide housing to. Check it out here
---
YMCA PROGRAMS– INCLUDING OZ and TAY:
Masks and gloves
Bottled Water, shelf-ready snacks
Monetary Donations
Donations can be dropped off at:
1050 North Broadway
Escondido, CA 92025
Monday to Friday from 12:00 PM to 4:00 PM
215 Barnes Street
Oceanside, CA 92054
Monday, Wednesday, Friday: 11:00 AM to 3:00 PM

For more information contact Charity Brant | cbrant@ymca.org

---
MILESTONE HOUSE
Online donations would be most welcome to help offset the extra expenses of the shelter-in-place order

Donate online at: www.MilestoneHouse.org

---
JUST IN TIME FOR FOSTER YOUTH
Critical Needs: Gift cards for former foster youth to purchase essential needs such as groceries, sanitizers and paper products
Donate online at Just in Time for Foster Youth and select "General Operations". In the "Comments" section, specify that you'd like your donation to go towards gift cards (you can list amount and which store and JIT staff will purchase the gift cards on your behalf) or leave the Comments section blank your donation will go towards their greatest need.
Visit Walmart Gift Cards to purchase a gift card and have it delivered to Just in Time. There is no delivery or service fee, so 100% of your purchase goes towards supporting youth participants!
You can also do the same with Amazon Gift Cards. Order online and have it delivered to JIT. There is no additional charge to purchase an Amazon Gift Card, but there IS an additional charge to purchase a NON-Amazon gift card (i.e Walmart/Target, etc) through Amazon.com.
Please have gift cards mailed to (rather than dropping off): P.O Box 601627, San Diego, CA 92160.

---
MONARCH SCHOOL FOR HOMELESS CHILDREN
Toiletries,
Socks, sweatshirts, rain ponchos
Art supplies
Please donate online at www.monarchschools.org. Click on COVID-19 Wish List and order products shown through Amazon.

---
RONALD MCDONALD HOUSE – SAN DIEGO
Financial donations
Meals and commercially packed snacks for families
Support for their San Diego Raffle with a chance to win a prize!
Create an online fundraiser with friends and family
Donate Online: https://rmhcsd.org/ways-to-help-during-covid-19/