2021 Sock Drive
February 13, 2021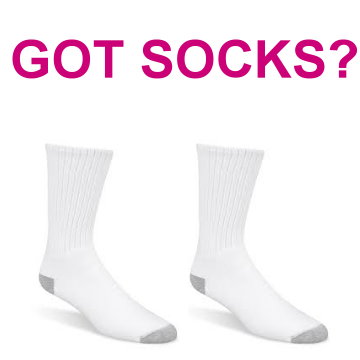 "GOT SOCKS!"
Help us "sock it to the wet and cold"
with New Socks for the Homeless!

The homeless spend a lot of time on their feet and don't always have access to washing machines! Wearing dirty and damp socks can lead to athlete's foot and contribute to other health issues. Clean, fresh socks provide comfort and contribute to good health.

We're collecting New Socks, all sizes and styles are welcome. White men's athletic socks are the most needed.

Campaign ends March 7th! Do you think we can collect a 2,021 pairs of Socks for the Homeless? Let's keep track of the number of pairs collected and see how much caring we can share with the homeless through our non-profit partners Brother Benno's, Bread of Life, OZ Teen Street Outreach, Fill-A-Belly, La Posada, Interfaith Services, and more.

If you want to "Compound the Caring", how about sharing this message and start your own sub-campaign? Ask your friends, co-workers, neighbors, school class, church, bunko group, sorority or others to join you in collecting. Feel free to set up a collection box and use this flyer to advertise. Teamwork always increases the output!
ORDER ITEMS VIA AMAZON FROM THIS WISHLIST. Items can be shipped to address attached to the wish list.

MAKE A DONATION AND LET US DO THE SHOPPING FOR YOU

OR DELIVER/SHIP YOUR ITEMS TO ANY DROP SITE BELOW BETWEEN NOW AND MARCH 12TH!

*For drop site locations, please email Passion2Serve@girlfriendscare.org.