2022 GYBSD Food Drive
February 28, 2021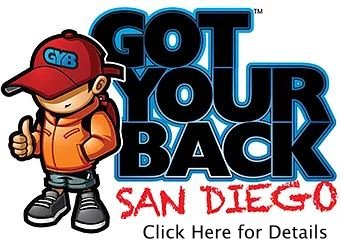 Help us "Collect a Grand of Food" to Feed the Children!
That's 1,000 healthy snack items for Got Your Back San Diego to help in the local fight against childhood hunger! Can we do it?

GYBSD a weekend food assistance program developed specifically for children attending San Diego County schools who have been identified as homeless and/or food insecure. Every week they deliver backpacks full of food to local Tri-City schools. Each backpack contains 2 breakfasts, 2 lunches, 2 dinners, and a few healthy snacks, enough food to sustain a child throughout the weekend.
We can help by supporting them with healthy snacks to help them get through until the next meal.

---

HELP US COLLECT THE FOLLOWING ITEMS
AND BRING A SMILE TO A CHILD'S FACE!

Their greatest need
Chef Boyardee pastas
Chili
Beans
Healthy Snacks (All individually wrapped and avoid high fructose corn syrup)
Graham Crackers
Granola bars
Fruit snacks with no red die (Costco)
Fruit chews and roll-ups
Fig Bars
Ritz crackers
Other items
Individual size shelf-stable milk
Bar soap
---

SHIP YOUR ITEMS DIRECTLY TO
Got Your Back San Diego
3820 Oceanic Dr, Suite 313
Oceanside, CA 92056
ORDER ITEMS VIA AMAZON FROM THIS WISHLIST. Items can be shipped to address attached to the wish list.
OR DELIVER YOUR ITEMS TO ANY DROP SITE BELOW BETWEEN NOW AND MARCH 11TH!
*For drop site locations, please email Passion2Serve@girlfriendscare.org.