Posted 4/11/2023

Getting Ready for Summer
Spring has finally arrived, and it won't be long until summer weather is upon us. Let's help our local community stay protected in the beautiful California weather.


We will be collecting baseball caps, sunglasses, and sunscreen to be distributed to our partners like Br. Bennos, Fill-a-Belly, La Posada, and Operation Hope.

Contact passion2serve@girlfriendscare.org for drop off locations.
Posted 10/2/2022
October Outreach
Operation Hope North County provides a safe, caring, and supportive environment where families with children and single women experiencing homelessness can rebuild their lives and reclaim independence. Participating in their resident program helps individuals regain emotional stability, learn the skills they need for financial well-being, create healthy relationships, and establish housing stability. Help children in transition celebrate the fall with this fun outreach project! We have two opportunities to serve:
Costume Drive for Operation Hope and Others – Now through October 17
We're collecting new children's costumes to celebrate the season! Costumes will be provided to the children residing at Operation Hope and others. Specific needs for:

Girls
Girl Age 4-6yr
Girl Age 6-9yr
Girl 10-14yr
Count
1
1
6
Boys
Boy 10 months
Boy Age 6-9yr
Boy Age 10-14yr
Boy Age 14-17yr
Count
1
2
2
2

Participate in Operation Hope's Trunk or Treat! – October 29th 6:30 – 7:30pm
We have six spots reserved for our girlfriends to enjoy the children in costumes and participate in a Trunk or Treat event at the Center. Provide treats for the kiddo's and be done early enough to enjoy the evening! Costumes and car decorations optional.

Date:
Time:
Location:
RSVP:
Saturday, October 29
Setup at 5:30; Trick or Treat 6:30-7:30 p.m.
Program Parking Lot (859 E. Vista Way, Vista)
Because this is a children's event, registration in advance and ID at the event will be required. Registration is first come. Contact ellen@girlfriendscare.org to RSVP.
Plan for 25 children

Operation Hope Staff will be coordinating the event.

Want to do more?
Opportunities to bring and serve meals are available. Meals must be commercially prepared. This is a great project for a family, neighbors, or small group of girlfriends! For more information https://operationhopeshelter.org/get-involved/more-than-a-meal/
JOIN US AT FAMILY RECOVERY CENTER – SPRING EVENT
Girlfriends Care returns to in person meetings!
---
WHO:
Girlfriends Care, Guys Care Too, Teens, Grammas Care & guests
WHAT:
Girlfriends Care Casual Brunch Meeting. Dress is Saturday Casual!
WHEN:
Saturday, May 14th 10:00am – noon
WHERE:
Family Recovery Center, 1100 Sportfisher Dr, Oceanside 92054
WHY:
We will learn the latest updates on Family Recovery Center and volunteer opportunities, including a special event in June.We'll meet at 10:00 am for a light brunch, complete cards of encouragement for the program members and mix and mingle before our meeting. We will hear about Girlfriends Care opportunities, as well as examples of success stories of giving back to our communities – and how we can help.
We will also provide a small gift to each of the program participants.
HOW:
RSVP NOW to RSVPNC@girlfriendscare.org AND let us know if you'd like to bring a brunch dish to share. Be sure to bring a friend or two!
WANT TO HELP?
For the women arriving with nothing:
Women's new tights – all sizes (especially large and plus sizes).
New Sports bras – all sizes
Tax-deductible receipts available upon request!
Published 4/16/22
Just In Time provided assistance to 1,588 transition age foster youth in 2021 with help from the community!

Just In Time for Foster Youth's mission is to engage a caring community to help transition age foster youth achieve self-sufficiency and well-being. Envision a future in which every youth leaving the foster care system has a community of caring adults waiting for them after 18. Just In Time offers programs that assist youth (ages 18-26) with basic needs, life skills, furnishing their first home, attending college, job search & interview skills, financial fitness and more! Just In Time believes that consistent, long-term help from the heart is the foundation for the success of our youth so they can thrive and enjoy productive, satisfying lives.

Watch the 4 minute video below to hear youth share the lasting impact Just In Time has had in their lives:
https://youtu.be/_o16w_pnm08
---

HELP US SUPPORT JUST IN TIME'S "MY FIRST HOME" PROGRAM AND PROVIDE YOUTH SOME BASIC ITEMS NEEDED TO MAINTAIN A CLEAN HOME. THIS MONTH WE ARE COLLECTING THE FOLLOWING NEW ITEMS:
Broom & dust pan sets
Swiffer starter kits
Spray mop that can be used with water
Sponges & microfiber cleaning cloths
Toilet bowl scrubber with holder
Vacuum (basic upright or stick vacuum)
Laundry baskets
Laundry detergent pods & dryer sheets
Dish detergent
All-purpose cleaner
Glass cleaner
---

SHIP YOUR ITEMS DIRECTLY TO
Just In Time
4560 Alvarado Canyon Road, Suite 2G
San Diego, CA 92120
Attn: My First Home

ORDER ITEMS VIA AMAZON FROM THIS WISHLIST. Ship items directly to Just in Time.

Learn more about Just In Time's services and volunteer opportunities at: https://jitfosteryouth.org/
March 2, 2022
Join us at Solutions for Change
We are so excited to finally return to in person meetings! We hope you will be able to join us.
---
WHO:
Girlfriends Care, Guys Care Too, Teens Care, and Guests
WHAT:
Girlfriends Care Casual Brunch Meeting. Dress is Saturday Casual!
WHEN:
Saturday, March 12, 2022, 10:00 AM – 12:00 Noon
WHERE:
Solutions for Change 722 W California Ave, Vista, CA 92083
The meeting will be held on a new outdoor patio space, so please dress accordingly.
WHY:
We will learn about Solutions including program updates and volunteer opportunities that have happened since we last visited. You'll learn about current, future, and past Girlfriends Care projects and outreach opportunities as well as celebrate our "Angels in the Middle", special girlfriends who have gone above and beyond. We'll meet at 10am for a light brunch and mix and mingle before our meeting which ends at noon. An optional tour of Solutions Farm will be available for anyone interested following our meeting. The farm is about 15 minutes away, 948 Rueda Dr., Vista. This is our first visit to the aquaponics farm! Please wear flat, comfortable shoes.
HOW:
RSVP NOW to RSVPNC@girlfriendscare.org AND let us know if you'd like to bring a brunch dish to share. Be sure to bring a friend or two!

WANT TO HELP?

For "Solutions University" programs
Daily Planners – with enough space to fill in assignments
Journals – for personal healing

For the resident's homes:
Sheets- twin or queen size
Comforters- twin or queen size
Laundry Baskets

For the children:
Spring Crafts
Coloring booksTax-deductible receipts available upon request
February 28, 2021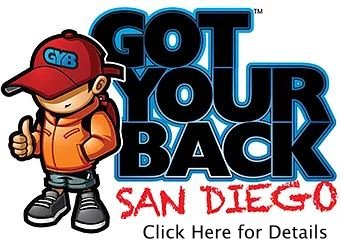 Help us "Collect a Grand of Food" to Feed the Children!
That's 1,000 healthy snack items for Got Your Back San Diego to help in the local fight against childhood hunger! Can we do it?

GYBSD a weekend food assistance program developed specifically for children attending San Diego County schools who have been identified as homeless and/or food insecure. Every week they deliver backpacks full of food to local Tri-City schools. Each backpack contains 2 breakfasts, 2 lunches, 2 dinners, and a few healthy snacks, enough food to sustain a child throughout the weekend.
We can help by supporting them with healthy snacks to help them get through until the next meal.

---

HELP US COLLECT THE FOLLOWING ITEMS
AND BRING A SMILE TO A CHILD'S FACE!

Their greatest need
Chef Boyardee pastas
Chili
Beans
Healthy Snacks (All individually wrapped and avoid high fructose corn syrup)
Graham Crackers
Granola bars
Fruit snacks with no red die (Costco)
Fruit chews and roll-ups
Fig Bars
Ritz crackers
Other items
Individual size shelf-stable milk
Bar soap
---

SHIP YOUR ITEMS DIRECTLY TO
Got Your Back San Diego
3820 Oceanic Dr, Suite 313
Oceanside, CA 92056
ORDER ITEMS VIA AMAZON FROM THIS WISHLIST. Items can be shipped to address attached to the wish list.
OR DELIVER YOUR ITEMS TO ANY DROP SITE BELOW BETWEEN NOW AND MARCH 11TH!
*For drop site locations, please email Passion2Serve@girlfriendscare.org.
August 16, 2021
| | |
| --- | --- |
| | This month Girlfriends Care will be helping local kids by collecting and distributing new or gently used jeans. You know; the outgrown ones in our closets which are still in great condition. Some may look like they've never been worn! |
When:
Drop off locations available between August 16 and September 10. Email info@girlfriendscare.org for locations.
Sizes:
All sizes needed to fit tots to teens
Condition:
Jeans should be in very good/new condition
Jeans will be distributed to kids in local transition programs such as Solutions for Change, Operation Hope, and, inventory allowing, additional kids in need in North County through local agencies. How you can get involved:
Have kids gather outgrown jeans from their own closets and set aside for donation those they would be proud to wear.
Ask friends and neighbors to participate. Either casually, or at a simple event hosted by the kids such as an ice cream social. Everyone brings jeans.
Support local businesses and consider donating a new pair or two.
Get your church, club, school or team involved! And set up a convenient drop off location for the members.
Make a drop box and ask a local business to take donations. Make sure you check the location regularly and empty the box as needed!
Donate online or by check and let us do the shopping for you.
Purchase new jeans online and have them delivered. Email info@girlfriendscare.org for shipping information.
This is a great no-cost way for your kids to help other local kids in need!
Posted 6/12/21
For every $1
the San Diego Food Bank can provide
5 meals to families in need!
How far can you stretch a dollar these days? Could you make or buy 5 meals for just $1? That is just what the Jacobs & Cushman San Diego Food Bank is doing!

For the month of June we encourage you to take a moment and watch this video to our girlfriends from Alden Domini at Jacobs & Cushman San Diego Food Bank.

Jacobs & Cushman San Diego Food Bank and their North County Food Bank chapter provide emergency food to vulnerable families. These Food Banks comprise the largest hunger-relief organization in San Diego County and distribute food to those in need at 200 distribution sites across the county as well as through 500 nonprofits with feeding programs.

Want to Help?
You can have fun shopping from the comfort of your home! Just follow this link and "purchase" food that will go directly to those in need and be assured that you are getting the best price (the Food Bank is able to purchase food at very low cost).
Posted 5/15/21
Making Families Stronger

Unfortunately we will not have the opportunity to meet at Family Recovery Center this year and hear the amazing stories of how women have rebuilt their lives and families with the help of the many services available through FRC. Not only are women overcoming substance abuse, but they are learning the skills needed to succeed professionally and personally. When they are healthy, then they can provide a healthy home from their children, making a positive impact today and in the years to come. Family Recovery Center is a residential and outpatient treatment program dedicated to assisting women recover from substance abuse, while promoting healthy family reunification. FRC is part of Mental Health Systems (MHS), a non-profit organization to provide innovative, cost effective mental health and drug/alcohol recovery services.
---
HELP US COLLECT THE FOLLOWING ITEMS!
New Journals
Pens
Notebooks
Daily Planners/Calendars
---
DROP OFF ITEMS OR SHIP DIRECTLY TO
FAMILY RECOVERY CENTER
Attn: Fabiola Quijano
1100 Sportfisher Drive, Oceanside, CA 92054
Drop off times: Monday-Friday 8am-5pm:

ORDER ITEMS VIA AMAZON FROM THIS WISHLIST. Items can be shipped to address above.

MAKE A DONATION AND LET US DO THE SHOPPING FOR YOU

OR DELIVER YOUR ITEMS TO ANY DROP SITE BETWEEN NOW AND MAY 30th!
email Passion2Serve@girlfriendscare.org for a list of drop sites.
Posted 4/22/21
YMCA's TAY Program

The YMCA is committed to supporting transition age youth (TAY) who face barriers to success in adulthood, including homelessness, abuse, and more, helping them lead healthy, successful lives. Entering adulthood is a critical developmental period that can be further complicated when a young person lacks a supportive network and faces a multitude of barriers. The YMCA offers innovative, effective programming in a safe and welcoming space.

Street Outreach

The YMCA Outreach Program is on foot outreach services in prominent homeless communities in Oceanside and is the first access point of the Y's continuum of services. Outreach workers provide homeless youth with immediate resources and referrals to get them off the streets. Through diversion services homeless youth are able to access safe housing options and/or familial reunification.

Who They Serve

* Runaway, homeless, and street youth between the ages of 12-25
* Youth seeking safety in San Diego County

Services Provided
Provide on-foot outreach and crisis assessment on the streets of North County, San Diego.
Offer snacks, hygiene kits, clothing and other necessities to youth on the streets.
Work with the youth to offer transportation to shelter and other supportive services.
Advocate and assist youth through the process of getting off the street and finding a safe place.
---

HELP US COLLECT THE FOLLOWING ITEMS!
Women's everyday shoes (tennis shoes etc. – sizes 7 through 9 are especially needed)
Gift Cards
Donations to purchase laundry cards – to wash the only clothes they have!
---
SHIP YOUR ITEMS DIRECTLY TO
TAY DROP-IN CENTER – NORTH COUNTY COASTAL
C/O Charity Brant
215 Barnes Street
Oceanside, CA 92054

ORDER ITEMS VIA AMAZON FROM THIS WISHLIST. Items can be shipped to address above.

MAKE A DONATION AND LET US DO THE SHOPPING FOR YOU

OR DELIVER YOUR ITEMS TO ANY DROP SITE BETWEEN NOW AND MAY 7th!
email Passion2Serve@girlfriendscare.org for a list of drop sites.